Ad blocker interference detected!
Wikia is a free-to-use site that makes money from advertising. We have a modified experience for viewers using ad blockers

Wikia is not accessible if you've made further modifications. Remove the custom ad blocker rule(s) and the page will load as expected.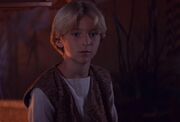 Artim, son of Sojef, was born on the planet Ba'ku in 2363.
Prior to his meeting to Data and the crew of the USS Enterprise-E, Artim never had any interaction with technology. When Data first revealed himself to the Ba'ku, Artim was afraid of him. However, when the village was under attack and his father was captured by the Son'a, Artim relied on Data for comfort and support.
Eventually Artim learned to understand a little more about technology via Data, as well as gain a playmate.
Artim had a pet rhyl that he took care of throughout the crisis. (Star Trek: Insurrection)
de:Artim