Ad blocker interference detected!
Wikia is a free-to-use site that makes money from advertising. We have a modified experience for viewers using ad blockers

Wikia is not accessible if you've made further modifications. Remove the custom ad blocker rule(s) and the page will load as expected.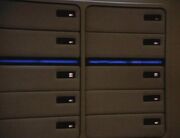 Blue alert (also code blue or condition blue) was an alert signal status on Starfleet vessels and outposts which was called for in exceptional situations, including, but not limited to, environmental hazards to the crew, main power failure, docking and separation maneuvers, and landing protocols, for ships with the capability.
The bridge lighting on the refitted USS Enterprise turned blue when it prepared to enter the Earth Spacedock in 2285. (Star Trek III: The Search for Spock)
The alert for starships on auxiliary power in 2287 was a blue status screen, along with the main lighting on the bridge switching to blue. (Star Trek V: The Final Frontier)
In 2367, the event of an imminent environmental systems failure or disruption resulted in blue alert being called in the affected areas in order to help affected personnel escape or safeguard their lives. (TNG: "Brothers")
The USS Defiant went to blue alert when engaging its Romulan cloaking device in 2371. (DS9: "The Search, Part I")
On a vessel with landing capabilities, such as the Intrepid-class, blue alert was called as an indication that the ship was preparing either to land or to take off; the crew would then need to report to code blue stations, in order to aid in the landing/liftoff procedures. Blue alert was the minimum required ship status for landing an Intrepid-class starship, as the USS Voyager did make a landing while at red alert without switching to blue alert status. (VOY: "The 37's", "Demon", "Dragon's Teeth")
Blue alert was also used when a Prometheus-class starship activated its multi-vector assault mode. (VOY: "Message in a Bottle")