Ad blocker interference detected!
Wikia is a free-to-use site that makes money from advertising. We have a modified experience for viewers using ad blockers

Wikia is not accessible if you've made further modifications. Remove the custom ad blocker rule(s) and the page will load as expected.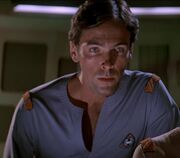 Commander Branch was the Human Starfleet officer in charge of the Epsilon IX monitoring station. While communicating with the Starship Enterprise, Branch, and the rest of Epsilon IX, was "absorbed" by the V'Ger probe as it passed near the station in the early 2270s. Branch's conclusion that Epsilon IX's scans were being interpreted by V'Ger as a hostile action impacted the later decisions made by James T. Kirk when the Enterprise first encountered the cloud. (Star Trek: The Motion Picture)
Background
Edit
According to the Star Trek Encyclopedia, "Commander Branch was never referred to by name in the film, but his name was in the credits. Just before Star Trek I began production, David Gautreaux had been cast in the role of Commander Xon, science officer aboard the Enterprise for the proposed television series Star Trek II. When the first episode of this series became Star Trek: The Motion Picture, the character Xon was eliminated and Gautreaux was recast as Branch."
Commander Branch has the honour of being the first Science Officer to permanently command a Federation Outpost and/or Starship. Despite this, Branch is the second-highest Science Division Officer in the Star Trek: The Original Series as Krasnovsky has the rank of Captain
According to Gene Roddenberry's novelization of Star Trek: The Motion Picture, Branch's rank was lieutenant commander.
External link
Edit