Ad blocker interference detected!
Wikia is a free-to-use site that makes money from advertising. We have a modified experience for viewers using ad blockers

Wikia is not accessible if you've made further modifications. Remove the custom ad blocker rule(s) and the page will load as expected.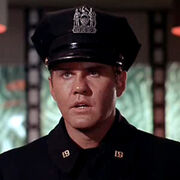 Bruce Mars enjoyed a short and unremarkable career between 1965 and 1969 – but two of his appearances were in different Star Trek: The Original Series episodes. He made a total of three movie appearances and about a dozen television guest spots. His most memorable Trek performance is without doubt Finnegan, the abusive cadet who made Kirk's academy life miserable, and whom Kirk later encountered on the Shore Leave Planet in recreated form. Mars' name was seen on a list of extras for "The Corbomite Maneuver" (as a Crewman), but his character was not seen in the episode.
Mars was a male model in the mid-to-late 1950s before his acting career. Before that, he was an athlete and appeared in the 1954 Olympic trials for track. Besides Star Trek, he apperead in guest spots on a few television series, including two episodes of Voyage to the Bottom of the Sea: "Killers of the Deep" with Michael Ansara and Dallas Mitchell and "The Abominable Snowman" with Bart LaRue, written by Robert Hamner and directed by Robert Sparr. He also appeared in "Massacre", an episode of The Time Tunnel, starring James Darren, Lee Meriwether and Whit Bissell. The episode was written by Carey Wilber, directed by Murray Golden and co-starred Paul Comi, Lawrence Montaigne and Perry Lopez.
Appearances
Edit
External link
Edit