Ad blocker interference detected!
Wikia is a free-to-use site that makes money from advertising. We have a modified experience for viewers using ad blockers

Wikia is not accessible if you've made further modifications. Remove the custom ad blocker rule(s) and the page will load as expected.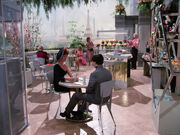 The Café des Artistes was a small restaurant in Paris, France on Earth, which offers an excellent view on the 500-year-old Eiffel Tower. It was located near the office of the President of the United Federation of Planets.
In 2342, Jean-Luc Picard had a rendezvous with Jenice Manheim at the Café des Artistes. However, Picard posted Jenice who later married Paul Manheim. In order to prepare himself for meeting Jenice again, Picard visited a holographic simulation of this café in 2364. (TNG: "We'll Always Have Paris")
The simulation was also available aboard the USS Enterprise-E in 2373. (Star Trek: First Contact)
See also
Edit
Appendices
Edit
Background
Edit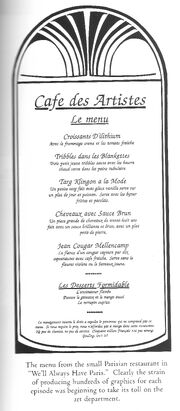 The menu used as a prop in the Café des Artistes is another example of the art department having fun. It was reproduced in Star Trek: The Next Generation - The Continuing Mission on page 67.
The menu for that day (in appallingly-spelled French) was:
External link
Edit
cs:Café des Artistes de:Café des Artistes fr:Café des Artistes nl:Café des Artistes