Ad blocker interference detected!
Wikia is a free-to-use site that makes money from advertising. We have a modified experience for viewers using ad blockers

Wikia is not accessible if you've made further modifications. Remove the custom ad blocker rule(s) and the page will load as expected.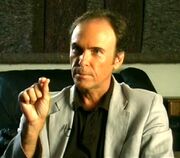 David Gautreaux (born 28 June 1951; age 65) was to have featured as Lieutenant Xon in Star Trek: Phase II. However, the series was canceled, and it was decided to produce Star Trek: The Motion Picture instead. Gautreaux was then recast in a minor role as Commander Branch of Epsilon IX station.
In 2001 he was interviewed for the special feature Phase II: The Lost Enterprise on the Star Trek: The Motion Picture (The Director's Edition) DVD.
In 2005, he guest starred in two episodes of Brannon Braga's short-lived series Threshold, which starred Brent Spiner. In 2008, he guest starred in an episode of Boston Legal, which starred William Shatner and John Larroquette.
Appearances
Edit
Further reading
Edit
External links
Edit