Ad blocker interference detected!
Wikia is a free-to-use site that makes money from advertising. We have a modified experience for viewers using ad blockers

Wikia is not accessible if you've made further modifications. Remove the custom ad blocker rule(s) and the page will load as expected.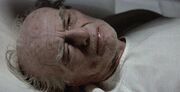 David McCoy was the father of Doctor Leonard McCoy, chief medical officer of the USS Enterprise and grandfather of Joanna McCoy. (Star Trek III: The Search for Spock)
David, like previous generations of McCoys, passed down the family recipe for Southern baked beans to his son, Leonard. Years later, Leonard would reveal that the "secret ingredient" was Tennessee whiskey.
Late in his life, David was stricken with an incurable painful disease in which he pleaded with his son to release him from. A cure was discovered soon after, subsequently causing Leonard many years of regret from causing his father's apparently needless death.
Leonard was forced to relive the event as a means to relieve his "pain", in 2287, following an encounter with the Vulcan outcast Sybok. (Star Trek V: The Final Frontier)
External link
Edit