Ad blocker interference detected!
Wikia is a free-to-use site that makes money from advertising. We have a modified experience for viewers using ad blockers

Wikia is not accessible if you've made further modifications. Remove the custom ad blocker rule(s) and the page will load as expected.
The Dytallix Mining Company is a company that mined seven uninhabited planets for the United Federation of Planets. At least one of these planets, Dytallix B, was long-deserted in 2364. It is unclear if other mines are still active. (TNG: "Conspiracy")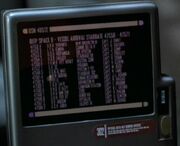 In a viewscreen chart showing Deep Space 9's arrival roster (

DS9

: "

Whispers

"), it depicted the SS Oregon having departed "Dytallix," in 2370, but is unclear which of the Dytallix planets it could have been, unless there was no need to specify (as all but one could be defunct).

de:Dytallix Mining Company nl:Dytallix Mijnbouw Maatschappij pl:Dytallix Mining Company