Ad blocker interference detected!
Wikia is a free-to-use site that makes money from advertising. We have a modified experience for viewers using ad blockers

Wikia is not accessible if you've made further modifications. Remove the custom ad blocker rule(s) and the page will load as expected.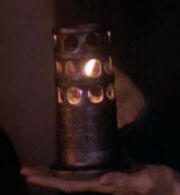 The Howard family candle was an heirloom in the Howard family, passed down for generations. It represented the strength of the Howard spirit, "the guiding light, wherever they may roam." Felisa Howard always kept it lit, and Beverly Crusher planned to take it back with her to the USS Enterprise-D following her grandmother's death in 2370.
The candle was in fact a receptacle for the anaphasic lifeform Ronin. He used it in order to maintain molecular cohesion and bond with a Human host. The flame was plasma-based. The candle was destroyed by Crusher in order to prevent Ronin from merging with her. (TNG: "Sub Rosa")