Ad blocker interference detected!
Wikia is a free-to-use site that makes money from advertising. We have a modified experience for viewers using ad blockers

Wikia is not accessible if you've made further modifications. Remove the custom ad blocker rule(s) and the page will load as expected.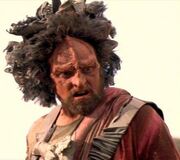 The Kazon-Ogla were one of the strongest sects in the Kazon Collective, and were the first Kazon sect encountered by the USS Voyager.
In 2371, a group of Ogla, led by Maje Jal Jabin, maintained a settlement on the planet Ocampa to mine the cormaline deposits. The Ogla attempted to prevent the USS Voyager from accessing the Caretaker's array when the Caretaker was nearing death, hoping to claim the array for its own. The Ogla were unable to stop Voyager from destroying the array to prevent the Kazon from using it against the Ocampa. (VOY: "Caretaker")
In 2372, the Ogla were led by First Maje Jal Razik. Razik allowed Kar, a Kazon boy, to earn his Ogla name by attacking Chakotay's shuttle. After Chakotay bested Kar's raider, they escaped to the Ogla weapons-testing moon of Tarok. Razik reluctantly agreed to cooperate with Voyager in recovering them. Razik was killed by Kar on the surface of Tarok, and leadership of the sect passed to Jal Haliz. (VOY: "Initiations")
de:Kazon-Ogla