Ad blocker interference detected!
Wikia is a free-to-use site that makes money from advertising. We have a modified experience for viewers using ad blockers

Wikia is not accessible if you've made further modifications. Remove the custom ad blocker rule(s) and the page will load as expected.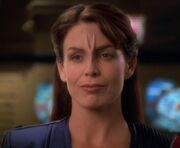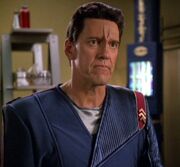 The Lokkirim were a spacefaring humanoid species in the Delta Quadrant. The Lokirrim were fighting an ongoing war against insurgent holograms, which they termed "photonics". The Lokirrim once employed holograms as workers, and many felt betrayed by the holograms with whom they thought they had close relationships.
In 2377, a Lokirrim patrol ship attacked the Delta Flyer II after detecting The Doctor aboard. Believing The Doctor decompiled, they detained Harry Kim and Seven of Nine on charges of transporting photonics and "biogenic material", i.e. spores that The Doctor was studying. The Doctor had in fact hidden himself within Seven of Nine's cybernetic matrix, and, using her body, was able to establish a rapport with the Lokirrim crew.
Another Lokirrim warship also attacked USS Voyager after detecting the activity of its holodecks. Since Voyager significantly outgunned the Lokirrim, Captain Janeway was able to negotiate safe passage in return for shutting down the holodecks. (VOY: "Body and Soul")
Named
Unnamed
Background
Edit