Ad blocker interference detected!
Wikia is a free-to-use site that makes money from advertising. We have a modified experience for viewers using ad blockers

Wikia is not accessible if you've made further modifications. Remove the custom ad blocker rule(s) and the page will load as expected.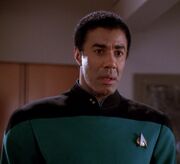 Doctor Martin was a 24th century, Human male, Starfleet staff physician who held the rank of lieutenant. Martin served aboard the Federation starship USS Enterprise-D under the command of Captain Jean-Luc Picard in the 2360s.
In 2368, when CMO Beverly Crusher was incapacitated by a telepathic violation, Dr. Martin was made the primary physician on her case, as well as the violation cases of Commander Riker and Counselor Troi. (TNG: "Violations")