Ad blocker interference detected!
Wikia is a free-to-use site that makes money from advertising. We have a modified experience for viewers using ad blockers

Wikia is not accessible if you've made further modifications. Remove the custom ad blocker rule(s) and the page will load as expected.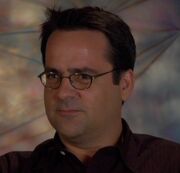 René Echevarria is a Cuban-American writer, producer and story editor of many Star Trek: The Next Generation and Star Trek: Deep Space Nine episodes. He also appeared as a holographic bar patron in the final episode of Deep Space Nine, "What You Leave Behind".
After graduating with a degree in history from Duke University, Echevarria moved to New York to pursue a career in theater. In 1985, he was assistant director to a production of the Victor Muniz play "Darts" and appeared in a production of "Lower Depths by Gorky". In 1986, he starred in a production of the Kristin McCloy play "Isosceles" at the Chelsea Theater, and in 1987, he appeared in the La Marna Theater adaptation of the Aeschuylus play "Oresteia". Echevarria collaborated with McCloy on the full-length play "Prepared", which was presented at the World's End Theater in London in 1988 and was performed at the Edinburgh Festival that same year.
In 1989, while working as a waiter in New York, he wrote his first script for Star Trek: The Next Generation, "The Offspring". As a result he became a regular writer for the show and was also a regular writer for Star Trek: Deep Space Nine. His 30-plus episodes of Star Trek have earned him a Humanitas nomination, a Peabody nomination, two Hugo nominations, and a NASA Vision award for Best Depiction of Humanity's Future in Space. In 1994, he received a Special Achievement award from the Latino Media Organization HAMAS. In 1998, he developed the scenario for Star Trek: The Experience.
After Star Trek he was supervising producer on the critically-acclaimed, but short-lived CBS series Now and Again distributed by Paramount Pictures. In 2000, he signed on as co-executive producer for the short-lived James Cameron FOX series Dark Angel as part of an overall multiyear with 20th Century FOX Television to develop new projects for the studio.
Star Trek credits Edit
Writing credits
Edit
Other credits
Edit
External links
Edit

de:René Echevarria es:René Echevarria it:René Echevarria ja:レネ・エチェヴァリア nl:René Echevarria