Ad blocker interference detected!
Wikia is a free-to-use site that makes money from advertising. We have a modified experience for viewers using ad blockers

Wikia is not accessible if you've made further modifications. Remove the custom ad blocker rule(s) and the page will load as expected.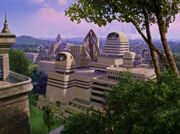 Starbase 515 was a Federation starbase located on a planet in the vicinity of the Epsilon IX sector and Rhomboid Dronegar sector 006.
Captain Jean-Luc Picard went there in 2365 to undergo a cardiac replacement. Wesley Crusher took his Academy entrance exams there at the same time. (TNG: "Samaritan Snare")
In early 2366, the USS Enterprise-D shuttlecraft Indiana Jones made a trip to this starbase. (TNG: "Evolution")
The matte for Starbase 515's cityscape was a reuse of matte created for the capital city of Angel I; the matte was extensively altered for the remastered edition of "

Samaritan Snare

".

According to

Startrek.com

, Starbase 515 was located in the Scylla sector.

[1]
Medical facilities
Edit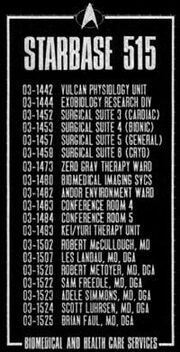 Starbase 515 had special biomedical health care services:
Directory
03-1442 Vulcan Physiology Unit
03-1444 Exobiology Research Division
03-1452 Surgical Suite 3 (Cardiac)
03-1453 Surgical Suite 4 (Bionic)
03-1457 Surgical Suite 5 (General)
03-1459 Surgical Suite 6 (Cryo)
03-1473 Zero Grav Therapy Ward
03-1480 Biomedical Imaging Services
03-1482 Andor Environment Ward
03-1483 Conference room 4
03-1484 Conference room 5
03-1502 Robert McCollough, MD
03-1507 Les Landau, MD, DGA
03-1520 Robert Metoyer, MD, DGA
03-1522 Sam Freedle, MD, DGA
03-1523 Adele Simmons, MD, DGA
03-1524 Scott Luhrsen, MD, DGA
03-1525 Brian Faul, MD, DGA
Base personnel
Edit
External link
Edit
de:Sternenbasis 515 es:Base Estelar 515 ja:第515宇宙基地 nl:Sterrenbasis 515