Ad blocker interference detected!
Wikia is a free-to-use site that makes money from advertising. We have a modified experience for viewers using ad blockers

Wikia is not accessible if you've made further modifications. Remove the custom ad blocker rule(s) and the page will load as expected.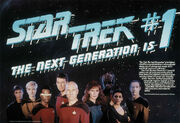 Episodes
Edit
Taking place 100 years after the era of James T. Kirk, Captain Jean-Luc Picard takes command of the Galaxy-class USS Enterprise-D with a hand-picked crew. They take on assignments from Starfleet as well as explore those strange new worlds, going where no one has gone before.
Background Information
Edit
Executive Producer
Co-Executive Producers
Co-Producers
Producer
Supervising Producers
Associate Producers
Consulting Producer
Line Producer
Program Consultant
Creative Consultant
Story Editors
Johnny Dawkins ("The Naked Now"-"Code of Honor", "Where No One Has Gone Before", "Too Short A Season")
Hans Beimler ("Coming of Age"-"The Neutral Zone")
Richard Manning ("Coming of Age"-"The Neutral Zone")
Executive Story Editors
Casting by
Music by
Main Title Theme by
Director of Photography
Production Designer
Edited by
Unit Production Managers
First Assistant Directors
Second Assistant Directors
2nd Second Assistant Director
Costumes Created by
Art Director
Sandy Veneziano ("Encounter at Farpoint"-"Justice", "Coming of Age"-"The Neutral Zone")
Assistant Art Director
Visual Effects Coordinators
Robert Legato ("Encounter at Farpoint"-"The Big Goodbye", "11001001", "When The Bough Breaks", "Heart of Glory", "Skin of Evil", "We'll Always Have Paris", "The Neutral Zone")
Dan Curry ("Too Short a Season", "Datalore"-"Angel One", "Home Soil", "Coming of Age", "The Arsenal of Freedom", "Symbiosis", "Conspiracy")
Post-Production Supervisor
Set Decorator
Make-Up Supervisor
Make-Up Artist
Hair Supervisor/Hair Designer
Hair Stylists
Joy Zapata ("Encounter at Farpoint"-"Haven")
Carolyn Ferguson ("The Last Outpost"-"Hide and Q", "The Big Goodbye"-"The Neutral Zone")
Production Associate
Consulting Senior Illustrator
Illustrator
Scenic Artist
Set Designers
Script Supervisor
Special Effects
Costume Supervisors
Janet Stout ("Encounter at Farpoint"-"The Naked Now", "Haven", "Where No One Has Gone Before")
Elaine Scheideman ("The Last Outpost"-"11001001")
Ed Sunley ("Home Soil"-"The Neutral Zone")
Key Costumers
Phil Signorelli ("Datalore"-"11001001")
David McGough ("When The Bough Breaks", "Coming of Age", "The Arsenal of Freedom", "Skin of Evil", "Conspiracy"-"The Neutral Zone")
Richard Butz ("Home Soil", "Heart of Glory", "Skin of Evil", "We'll Always Have Paris")
Camera Operator
Chief Lighting Technician
First Company Grip
Property Masters
Joe Longo ("Encounter at Farpoint", "Code of Honor", "Where No One Has Gone Before", "Lonely Among Us", "The Battle", "Datalore", "11001001", "When The Bough Breaks", "Heart of Glory", "Skin of Evil", "We'll Always Have Paris", "The Neutral Zone")
Alan Sims ("The Naked Now", "Haven", "The Last Outpost", "Justice", "Hide and Q", "The Big Goodbye", "Angel One", "Home Soil", "Coming of Age", "The Arsenal of Freedom", "Symbiosis", "Conspiracy")
Sound Mixer
Alan Bernard, C.A.S. ("Encounter at Farpoint"-"The Big Goodbye", "Angel One", "Home Soil"-"The Neutral Zone") (credited as Sound Mixer, C.A.S. from "The Battle" on)
Dean Gilmore ("Datalore", "11001001")
Music Editors
Supervising Sound Editors
Sound Editors
Re-Recording Mixers
Computer Graphics by
Casting Executive
Casting Associate
Production Coordinator
Construction Forepersons
Construction Coordinator
Al Smutko ("The Naked Now"-"The Neutral Zone")
Transportation Coordinator
Special Visual Effects by
Video Optical Effects by
Special Video Compositing
Editing Facilities
Post Production Sound by
Lenses and Panaflex® Cameras by
Uncredited
Edit
Patric J. Abaravich - Electrician ("Encounter at Farpoint"-"The Neutral Zone")
Barbara Affonso - Model Maker: ILM ("Encounter at Farpoint")
Chris Alsop - CGI Artist: The Post Group ("Datalore")
Allan A. Apone - Neural parasite fabricator: Makeup & Effects Laboratories ("Conspiracy")
John Beasley - Composer: Additional Score ("Encounter at Farpoint")
David Bernard - Sound Cable Person ("Angel One", "Too Short A Season")
Keith Bilderbeck - Sound Editor ("11001001")
Patricia Blau - Visual Effects Manager: ILM ("Encounter at Farpoint")
Cha Blevins - Extra Costumer for Females ("Angel One", "Too Short A Season")
Edward Brown, Jr. - First Assistant Camera Operator ("Too Short A Season")
Burza - Extra Costumer for Males ("Too Short A Season")
Lloyd A. Buswell - Construction Foreman
Richard E. Butler - Stunt Coordinator ("Encounter at Farpoint")
David Carson - Visual Effects Supervisor: ILM ("Encounter at Farpoint")
Sean Casey - Model Maker: ILM ("Encounter at Farpoint")
Ed Charnock - Painter ("Angel One", "Too Short A Season")
Jesse Chavez - Crab Dolly Grip ("Angel One", "Too Short A Season")
Ray Clarke - DFX Paint FX Artist: The Post Group
Jerry Clemans - Sound Mixer ("Where No One Has Gone Before")
Bill Concannon - Model Maker: ILM ("Encounter at Farpoint")
Armando Contreras - 2nd Grip ("Too Short A Season")
Chuck Courtney - Stunt Coordinator ("Datalore")
James Crawford - Set Security ("Angel One", "Too Short A Season")
Kerrie Cullen - Stunt Coordinator ("The Last Outpost")
Doug Davey - Sound Mixer ("Where No One Has Gone Before")
Helen Davis - Quantel Harry Artist: The Post Group
Demuth - Extra Costumer for Males ("Angel One")
Syd Dutton - Matte Artist ("Code of Honor", "Angel One", "Home Soil")
Huey Duval - Swing Gang ("Angel One", "Too Short A Season")
Evangelatos - Craft Service ("Angel One", "Too Short A Season")
Marian Fife - Studio Teacher ("Angel One", "Too Short A Season")
Sandy Fries - Story Editor ("Angel One", "Too Short A Season")
Gage - Extra Grip ("Angel One", "Too Short A Season")
Steve Gawley - Supervising Model Maker: ILM ("Encounter at Farpoint")
Bill George - Model Maker: ILM ("Encounter at Farpoint")
Ray Gilberti - Assistant Lighting Camera Operator: ILM ("Encounter at Farpoint")
Ken Gildin - Assistant to Writers and Producers ("Encounter at Farpoint"-"The Neutral Zone")
David Ginsberg - Executive Producer: Rick Zettner & Associates, Inc.
Adam Glick - Lamp Operator ("Angel One", "Too Short A Season")
Chris Haire - Sound Mixer ("Where No One Has Gone Before")
Christine Heinz - Extra Costumer ("Angel One")
Robert Hill - Assistant Camera Operator: ILM ("Encounter at Farpoint")
Dennis Hoerter - Motion Control Technician ("Encounter at Farpoint"-"The Neutral Zone")
Gary Hutzel - Visual Effects
Gregory Jein - Model Maker (at the beginning for ILM) ("Encounter at Farpoint"-"The Neutral Zone")
Brenda Kalosh - 2nd Second Assistant Director ("The Naked Now"-"Lonely Among Us", "Haven")
Alan Kaminsky - Driver Generator Operator ("Encounter at Farpoint"-"The Neutral Zone")
Stan Kellam - Visual Effects Editor: The Post Group
Rolf John Keppler - Make-Up Artist ("Coming of Age")
John Knoll - Enterprise warp effects artist: ILM ("Encounter at Farpoint")
Les Landau - Director ("Code of Honor")
Kenneth A. Larson - Special Effects Technician ("Encounter at Farpoint")
Stephen Lebed - Model Maker ("Conspiracy")
Greg Luntzel - Second Assistant Camera Operator ("Angel One", "Too Short A Season")
Elaine Maser - Costumer: Women ("Angel One", "Too Short A Season")
Mike May - Assistant Property Master ("Angel One", "Too Short A Season")
McKane - Lamp Operator ("Angel One", "Too Short A Season")
Edward K. Milkis - Producer ("Encounter at Farpoint")
Mills - Extra Grip ("Angel One", "Too Short A Season")
John Moio - Stunt Coordinator ("The Arsenal of Freedom")
Peter W. Moyer - Visual Effects Editor: The Post Group (2 episodes)
Steve Neill - Makeup Artist ("Encounter at Farpoint")
Michael Olague - Visual Effects Technician: ILM ("Encounter at Farpoint")
Ease Owyeung - Lead Model Maker: ILM ("Encounter at Farpoint")
Greg Papalia - Set Designer ("Encounter at Farpoint")
Lowell Peterson - Camera Operator ("The Naked Now"-"The Neutral Zone")
Steve Price - Quantel Harry Artist: The Post Group
Gerald Quist - Sculptor ("Skin Of Evil"), Make-Up Artist ("Coming of Age", "Conspiracy")
Fred Raimondi - Visual Effects Compositor ("11001001"-"The Neutral Zone")
Maricella Ramirez - Key First Assistant Camera Operator ("Encounter at Farpoint"-"Lonely Among Us", "Hide and Q")
Ed Reilly - Assistant Chief Lighting Technician ("Angel One", "Too Short A Season")
Malcolm "Mel" Rennings - Mike Operator ("Angel One", "Too Short A Season")
Gene Roddenberry - Creator
Rory Romero - DGA Trainee ("Angel One", "Too Short A Season")
Stewart Satterfield - Transportation Coordinator ("The Naked Now" - "The Neutral Zone")
Schiavone - Extra Grip ("Angel One")
Scott Schneider - Model Maker: Greg Jein, Inc.
Schultz - Lamp Operator ("Angel One", "Too Short A Season")
Wesley Seeds - Model Maker: ILM ("Encounter at Farpoint")
Charles Sertin - Swing Gang ("Angel One", "Too Short A Season")
Phil Signorelli - Costumer for Males ("Too Short A Season")
Bruce A. Simon - First Assistant Director ("Encounter at Farpoint")
Alan Sims - Property Master ("Too Short A Season")
Eric Stillwell - Production Assistant ("The Big Goodbye"-"The Neutral Zone")
David Stipes - Stop Motion Control Artist ("Conspiracy")
Greg R. Stone - Special Effects Technician ("The Naked Now", "Lonely Among Us", "The Battle", "Haven", "Datalore", "11001001", "When The Bough Breaks", "Coming of Age", "The Arsenal of Freedom", "Skin of Evil", "Conspiracy")
Babu Subramaniam - First Assistant Director ("Code of Honor")
Barton M. Susman - Art Department Lead Person ("Angel One", "Too Short A Season")
Pat Sweeney - Visual Effects Director of Photography: ILM ("Encounter at Farpoint")
Wes Takahashi - Opening Title Sequence Animator: ILM
Rich Thorne - Chief Operating Officer: The Post Group
Monte Thrasher - Designer & Illustrator Romulan insignia and Romulan language
Tony L. Torino - VFX Motion Control Director: The Post Group
Tracy Tormé - Executive Story Editor ("Encounter at Farpoint"-"Coming of Age")
Elaina M. Vescio - Set Security ("Angel One", "Too Short A Season")
Jana Wallace - Secretary to Gene Roddenberry/Script typist
Howie Weed - Model Maker: ILM ("Encounter at Farpoint")
Michael Westmore, Jr. - Prosthetic Electronics ("Datalore")
Dana White - Pre-Production Associate
Ray Wilbar - First Assistant Camera Operator ("Angel One", "Too Short A Season")
Glenn R. Wilder - Stunt Coordinator ("Code of Honor")
Murphy Wiltz - Lamp Operator ("Angel One", "Too Short A Season")
Unknown - Stunt Coordinator ("Lonely Among Us", "Justice"-"Hide and Q", "The Big Goodbye", "Too Short A Season", "Home Soil", "Heart of Glory", "Skin Of Evil"-"Conspiracy")
Production companies
Edit
See also
Edit
cs:První sezóna TNG de:TNG Staffel 1 fr:TNG Saison 1 it:TNG Stagione 1 nl:TNG Seizoen 1 sv:TNG, säsong 1