Ad blocker interference detected!
Wikia is a free-to-use site that makes money from advertising. We have a modified experience for viewers using ad blockers

Wikia is not accessible if you've made further modifications. Remove the custom ad blocker rule(s) and the page will load as expected.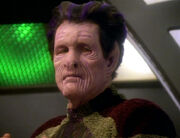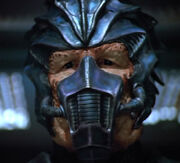 Tiny Ron is the actor known for his role as Maihar'du in seven episodes of Star Trek: Deep Space Nine. He also played Idrin, the Alpha Hirogen, in the Star Trek: Voyager episodes "Message in a Bottle" and "Hunters".
Ron was born with the name Ron Taylor, but changed it when applying for the Screen Actors Guild because it was already taken by another Star Trek actor. The name is intended to be ironic, considering he is 7 feet (2.13 meters) tall and a former professional basketball player.
With his large size, Ron has been cast as hulking henchmen in a number of movies. Perhaps his best known film role is the hulking Nazi assassin Lothar in The Rocketeer, which co-starred Paul Sorvino, Terry O'Quinn, Ed Lauter, Clint Howard, and Max Grodénchik (Ron's character brutally killed his future Deep Space Nine co-star). Ron also appeared briefly out of prosthetics as a different character in the same movie.
Ron also played one of the kidnappers in Ace Ventura: Pet Detective (which also starred Noble Willingham and Mark Margolis); as "Jack the Giant" in Last Man Standing (with Patrick Kilpatrick, Ken Jenkins, Christopher Doyle, and Allan Graf); in Road House (with Marshall Teague, Kevin Tighe, Anthony De Longis, and Patricia Tallman); and appeared in The Naked Gun (with Ricardo Montalban, Lawrence Tierney, and Raye Birk),
Appearances
Edit
DS9

: as Maihar'du

VOY

: as Idrin
External links
Edit