Ad blocker interference detected!
Wikia is a free-to-use site that makes money from advertising. We have a modified experience for viewers using ad blockers

Wikia is not accessible if you've made further modifications. Remove the custom ad blocker rule(s) and the page will load as expected.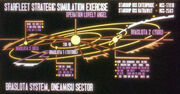 Totoro (or Braslota I) was the first planet in the Braslota system. This system was located in the Oneamisu sector.
In 2365, this planet was chosen as an element in Operation Lovely Angel, a Starfleet battle simulation. In the exercise, the starships USS Hathaway and USS Enterprise-D were to attempt to assault targets on Totoro while maintaining control of orbital space of the next planet, Yuri, and defend against assault from third planet, Kei. (TNG: "Peak Performance")