Ad blocker interference detected!
Wikia is a free-to-use site that makes money from advertising. We have a modified experience for viewers using ad blockers

Wikia is not accessible if you've made further modifications. Remove the custom ad blocker rule(s) and the page will load as expected.
The USS Venture (NCC-71854) was a Federation Galaxy-class starship that was in service with Starfleet in the late 24th century. Its captain was a friend of Benjamin Sisko.
In 2372, the Venture led a task force under the command of Admiral Hastur to reinforce Deep Space 9 when it was threatened by a Klingon attack. (DS9: "The Way of the Warrior")
The Venture visited DS9 again in 2373. (DS9: "Doctor Bashir, I Presume")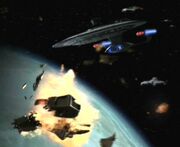 In 2374, the Venture participated in Operation Return, protecting the flank of the USS Defiant. The Venture was one of the first ships to arrive at Deep Space 9 after the Dominion retreat. (DS9: "Sacrifice of Angels")
The Venture saw action again later that year when it fought as part of the Federation Alliance fleet that invaded the Chin'toka system. (DS9: "Tears of the Prophets")

Appendices
Edit
Appearances
Edit
Background
Edit
The Venture in "The Way of the Warrior" (and episodes which reused that footage) was the four-foot USS Enterprise-D model built for the third season of Star Trek: The Next Generation. Although it was mostly unchanged from the Enterprise-D, the Venture retained the phaser arrays on the dorsal sides of its nacelles from when the model was modified into the future Enterprise from TNG: "All Good Things...", but they were turned around for the Venture. This was the last use of a physical model to represent the Galaxy-class, and the computer generated versions do not have the extra phasers.
The Venture's appearance in "Tears of the Prophets" was confirmed by John Gross and Karen Sickles of Digital Muse in a 25 June 1998 post, by DS9 Visual Effects Supervisor David Stipes, on the newsgroup alt.tv.star-trek.ds9.
The Venture was also the first Galaxy-class ship to have its full name emblazoned below the registry number on the ventral side of its saucer section, [1] which was carried over to other Galaxy-class ships such as the USS Challenger from VOY: "Timeless".
The Venture may have been named for the HMS Venture, the various ships of the United States Navy that bore the name USS Venture, or the fictional SS Venture from the 1933 Hollywood classic King Kong.
In the strategy game, Star Trek: Bridge Commander, the USS Venture was one of the ships the player has to rescue from a Cardassian attack.
External link
Edit
bg:USS Венчър cs:USS Venture de:USS Venture es:USS Venture ja:USSヴェンチャー nl:USS Venture