What the hell happened to this place? Where are all the pages? Several have been deleted, and even your talk page didn't have anything in it. --Noah Tall (talk) 22:14, September 7, 2013 (UTC)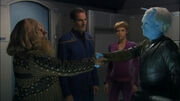 Welcome to Memory Alpha, 31dot! I've noticed that you've already made some contributions to our database – thanks for your edit to the "User talk:31dot" page! We all hope that you'll enjoy our activities here and decide to join our community.
If you'd like to learn more about working with the nuts and bolts of Memory Alpha, I have a few links that you might want to check out:
One other suggestion: if you're going to make comments on talk pages or make other sorts of comments, please be sure to sign them with four tildes (~~~~) to paste in your user name and the date/time of the comment.
If you have any questions, please feel free to post them in our Ten Forward community page. Thanks, and once again, welcome to Memory Alpha! Archduk3 (talk) 22:30, September 7, 2013 (UTC)
Contacted
Edit
Exuse me, I was contacted to examine the skin here or something? I'm not a part of this wiki so may I ask why? User:Per Ankh ED 16:41, September 8, 2013 (UTC)
What is this?
Edit
I don't recall editing at this wiki. Why am I credited with creating those pages in my contributions? maggosh 21:01, September 8, 2013 (UTC)